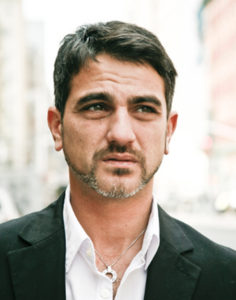 You are from Israel. How long have you been in New Jersey?
Thirteen years. We moved to South Orange from Rutherford two years ago.
Why South Orange?
I had a salon in SOHO at the time and the commute from South Orange was better. We also came for the diverse community and better schools.
Was Y Gallery Salon in SOHO your first shop?
No, I opened a salon in Israel when I finished my time in the army at 21 and had it until I was 28.
When did you open Yoni Kreger? And why here?
Seven months ago. Because South Orange feels a lot like NY. And because I always wanted to work close to home. It takes me two minutes to get here.
When did you start cutting hair?
When I was 14. My mother was my first client. She's a lot like me. A risk taker.
And your wife? A risk taker as well with her hair?
Not so much (says with a smile).
What's your opinion on washing hair i.e.: how often?
Every other day is okay. Dry shampoo is a good filler.
What about maintenance?
Hair should be trimmed every six weeks to maintain a healthy look. Even if it is just a little trim, it makes a difference.
You've worked with a lot of fashion people. Craziest colors you've done?
I've done it all. Every color imaginable. For one event we did the hair to go with a Salvador Dali painting. That was fun.
Whose style do you admire?
I like Rhianna's hair. She's brave. And it's fun to see her looks become mainstream two years later.
Biggest mistake people make with their hair?
Coloring it themselves. Don't do it! We get so many people in to have their color fixed. A lot goes into the process. More than you can do with a box.
What do you miss most about Israel?
Besides family and friends, the food. Although I've become a fan of Bunny's burgers lately.
Favorite place to vacation?
Mexico
Favorite meal?
Chicken and potatoes.
Music?
80's and 90's. Anything with a good beat.
How's is it living in South Orange so far?
I've never seen a community like this one. Everyone truly cares about seeing South Orange do well. In our old neighborhood no one said hi. Here it is the opposite. It is a dream come true really.
If you haven't been in to check out the new Yoni Kreger salon, do so, it's beautiful. Say you saw this post and Yoni will give you 10% off your haircut now through the end of September.
YoniKregersalon.com / 973-762-2900 / 9 West South Orange Avenue